Literature
Unoma Azuah: "Teachers of creative writing are like coaches"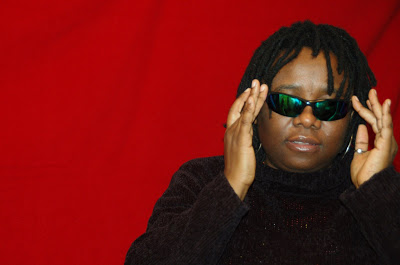 Unoma Nguemo Azuah was born at Ogwashi-Ukwu in Delta State to a Tiv father and an Igbo mother. Most of her formative years were spent at Nsukka as a high school student in Q.R.S.S Nsukka and as an undergraduate in the English Department of the University of Nigeria, Nsukka, where she edited the literary journal?The Muse. She currently teaches Composition and Creative Writing at Lane College, Jackson, Tennessee. She is an MFA graduate of Virginia Commonwealth University, Richmond, Virginia. She also has an MA in English from Cleveland State University, Cleveland, Ohio, both in the US. The numerous literary awards she has received include, the Hellman/Hammett award, Leonard Trawick award, and the Urban Spectrum National best novel of the year award by an African born writer for her debut novel?Sky-high Flames. Here, she speaks to Sumaila Umaisha about her writings, women writings and other literary issues.

NNW: When and how did you start writing?

Unoma Azuah: I started writing in high school as a means of therapy. I would keep journals and diaries because I like putting my feelings and thoughts on paper. Often I?d even be writing poetry during class time. One day my Literature teacher then, Mr. Ike Joe Ogugua, questioned if I was paying attention to the lesson. He demanded to see what I was writing and discovered my love for writing. He then insisted that I submit one of my poems to our secondary school magazine. When I saw one of my poems published for the first time, I felt thrilled. It occurred to me that beyond providing a personal healing, writing also rendered a form of empowerment. I remain passionate about writing and when I entered the university as a freshman, I threw myself into literary activities that were available. By my third year, I was editor of the departmental magazine?The Muse and coordinator of what were referred to as "literary nites." This was an annual awards ceremony that recognized the best submissions of poetry, drama and fiction for the year. Out of the four annual contests that I entered, I won three years in a row. This has encouraged me to keep at it and I have not stopped.

Successful writers like you usually have role models. Who is your role model among the Nigerian writers?

I have quite a number of role models among Nigerian older writers; Chinua Achebe, Elechi Amadi, Buchi Emecheta, Flora Nwapa, Zaynab Alkali, Mabel Segun, a whole bunch of the then Pacesetters writers, Onitsha Market literature icons, etc. These writers introduced me to adventures in a familiar world. They used the materials I could identify with to craft their stories, and beyond their themes is the fact that their dexterity in character moulding, plot, suspense, and resolutions is stunning. Added to these traits, as far as the women writers are concerned, is that they bare the cruelty embedded in our patriarchal system. This is especially found in Alkali?s masterpiece The Stillborn and Emecheta?s Joys of Motherhood. Nwapa has "re-righted" the image of the Nigerian woman in literature by creating characters like Efuru who are not only independent and strong, but very resourceful. Nwapa?s later novels became more daring in confronting the dilemma women face in being themselves versus what society expects them to be.

As a teacher of Creative Writing, what?s your view on the general belief that writers are born, not made?

I do believe that writers are born and not made, so I bet your next question then becomes?why teach creative writing? Teachers of creative writing are like coaches, if people have love for playing soccer then the coaches drill them to come to their utmost ability. If these lovers of soccer come to realize along the line that soccer is not for them, then they bale out. Likewise teachers of creative writing assist students who love writing in honing their skills. These skills would need to be sharpened for such writers to come to their highest potential as writers. I?ll give you another example?if you have a deposit of black gold in your corn farm and you are aware of its existence, the impulse is to go and drill the oil and then refine it for public consumption. The only other alternative is to let the black gold go to waste. So, creative writing teachers again are the drillers and the refiners. They don?t necessarily exist to teach anyone how to write. They help budding writers fulfil their potential. As Wallace Stegner said, "Nobody can teach the geography of the undiscovered. All he [she] can do is encourage the will to explore, plus impress upon the inexperienced a few of the dos and don?ts of voyaging". He goes on to sum up Ring Lardner?s opinion by saying, "?You can?t make a writer out of a born druggist. You can?t make a sprinter out of a 250-pound hammer-thrower or a musician out of someone who is stone deaf. You begin with a gift, big or little, and you try to help it become whatever its potential permits."

It has been observed that African women writers are over flogging the gender issues in their writings, making them boring. What?s your view on this?

First of all, we have not even scratched the surface in addressing gender issues?not in our writings, nor in our politics. These works are selling, so they must not be boring. Furthermore, works by African women writers are in demand not only in the continent but across the globe. These works are proven to be commercially viable as well as critically acclaimed, so that refutes the assertion that these works are boring. Unfortunately, there are those who are very uncomfortable with the empowering of women, but the progress of women can?t be stopped. There is no way we can justify denying our mothers, our wives and our sisters opportunities to support their family through legitimate means and to receive education. The last time I checked, in Nigeria women constitute more than fifty percent of the population. To deny women viable economic and educational opportunities is to retard the prosperity of the nation. If more than fifty percent of the population is unskilled and uneducated then that nation?s workforce fails to achieve optimal productivity, creativity, efficiency and competitiveness. Again, the issues of over flogging and boring do not even begin to arise. I think that most of the critics spreading this bogus hypothesis are bigots representing themselves and a whole bunch of male chauvinists who are very uncomfortable with anything feminist or the empowering of women. How can anyone call gender issues irking when Nnuego?s experiences in Joys of Motherhood are still being perpetuated? The notion that gender issues are overdone in Nigeria is deceitful to say the least.

What should be the African women?s roles in nation building? And have these roles been adequately reflected in Nigerian literature, especially by male writers?

The roles that African woman could play in nation building would be limitless if they were allowed to play more roles and even more prominent roles. Women are the primary managers of their homes, raising their children, managing the family income and establishing side businesses for themselves. They also engage in the same organization and leadership tasks required in government and industry just as their male counterpart. However, the sexist conditions of our society prevent the use of the rich skills that African women possess. Once again, this stunts the growth of the nation. The African woman?s adroit ability to multi-task suits her for effective leadership, maybe even superior leadership. Professor Dora Akunyili, Director of National Agency for Food and Drug Administration and Control, NAFDAC, Mrs. Esther Nenadi Usman, Minister of Finance and Dr. Ngozi Okonjo-Iweala, former Minister of Finance, are perfect examples. Their achievements are quite outstanding. Their service could be replicated several times over if there were adequate educational and professional opportunities across the board for African women. With respect to how Nigerian Literature by male writers reflects the African woman?s role in nation building, these writers mirror the reality of the society, therefore African women?s role and leadership is minimal. Hence, a good number of African women characters are confined to being straddled with children, attached to pots of soups and engaged in bits of gossip. Refreshingly, one deviation from this pattern is Achebe?s portrayal of a strong and significant female character in Anthills of the Savannah. Hopefully, Achebe?s Beatrice will inspire more such portrayals, if it has not already.

Your novel, Sky-High Flames is a stunning success. What?s the secret?

I don?t know that there is any secret to success except faith, hard work and high standards. Sky-high Flames, incidentally, is my first attempt at a longer narrative. Writing it was quite a challenging experience, so I am glad it has enjoyed some success.

Should we expect any works from you soon?

Of course! I propose to keep writing till I draw my last breath. I aim to have two works out by next year: a collection of short stories and an anthology of new Nigerian poetry by the name On Broken Wings. Both should be out then, or at least one of them.

What advice would you give to writers who are trying to develop their craft and hoping to one day be published?

They should write and read as much as possible; join writers? groups, local and on-line and search the internet for contests. Lastly, make education a priority, no matter what. Access to better writing breaks and higher education may not be what it should be but we can?t be discouraged by that. I have already stated the opportunities I received to develop my writing in school. These are the opportunities I would not have had otherwise. So the role of school and a nurturing writing environment in the development of a writer cannot be over emphasized. This has even inspired me to establish a cash award for English students studying at my alma mater, University of Nigeria, Nsukka. It?s in memory of my father Peter Akaa Azuah.

Do you intend to come back and stay permanently in Nigeria?

As they say, home is where the heart is, and my heart definitely remains in Nigeria. I do plan to return. I just hope that by then I won?t be a cock returning to roost at dusk. On this topic, I?ll leave you with a poem I am still tinkering with called Will You Return?

"Will you go back to Africa?" they ask.
As if Africa is a Bermuda triangle?
Would my answer affirm what they think they know of Africa;
An open field of bones, wilds and scattered huts
Would it change what they think they know of Africa?
But my return to Africa is the strain on a broken leg
The will to move it comes from the rest of the body
And a body as broken as a leg may have no will left to move
I will return to Africa, maybe now?tomorrow, yesterday
But these feet are not bound by journeys of home and exile
they are the folds of waves that crease into the Atlantic
and their crashes spatter beyond shorelines
depositing coal, woods, beads and glittery things.
I will return to Africa bearing deposits from the rest of the world.
(c) Interviewed by Sumaila Umaisha and published in the 8/2/06 edition of New Nigerian.
-
My Pen Is That Faceless Crusader Aiming For A Change - Salamatu Sule
SALAMATU SULE, a graduate of English and Literary Studies from the Kogi State University, Ayingba, is a multi-talented writer. She writes prose and poetry in both standard and Pidgin English. In this interview with SUMAILA UMAISHA, the imaginative writer,...
-
Zaynab Alkali Chats With Kasu Students
AS part of the regular interactive sessions for its students, the Department of English and Drama, Faculty of Arts, Kaduna State University, Kaduna, hosted Zaynab Alkali, last week. Zaynab is the first Northern Nigerian woman novelist in English language...
-
I Have Books That Are Yet To Be Published - Binta (interview)
Binta S. Mohammed, who passed on 4th May, 2009, is a notable poet and novelist and a lecturer in the Department of English at Bayero University, Kano. She had an interesting interview session with Muhammad Kabir Yusuf last year. Here are excerpts from...
-
Sefi Atta: 'i Don?t Think Every Literary Work Should Be Didactic' (interview)
Sefi Atta, who recently won the literary prize endowed in honour of the first African literary Nobel Laureate, Wole Soyinka, for her novel, Everything Good Will Come, was born in Lagos, educated in Lagos and England and currently teaches at Meridian...
-
Chimamanda: ?to Write Fiction Is To Try To Make Sense Of The World? (interview)
Chimamanda Ngozi Adichie, a Nigerian writer based in the US, is fast becoming a house-hold name not only in Nigeria but globally. Her works, especially the novel, Purple Hibiscus, has won many awards including the 2005 Commonwealth Writers? Prize for...
Literature