Literature
Sefi Atta: 'I don?t think every literary work should be didactic' (interview)
Sefi Atta, who recently won the literary prize endowed in honour of the first African literary Nobel Laureate, Wole Soyinka, for her novel, Everything Good Will Come, was born in Lagos, educated in Lagos and England and currently teaches at Meridian Community College and Mississippi State University, USA. Apart from the Soyinka Prize, she has won other prizes including David TK Wong Prize. In this interview with me, she gives an insight into her works.
NNW: Let?s begin with your brief biography.Sefi Atta:
I was born in Lagos in 1964. My late father is from Okene and my mother is Yoruba. I grew up in Lagos and attended Queen?s College from 1974 to 1978, and then Millfield, a boarding school in England, from 1978 to 1982. I graduated with a business degree from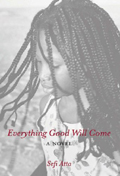 Birmingham University in 1985 and trained as an accountant in London from 1988 to 1991.
When did you start writing?
I began to write in 1994 while working in New York. I took a short creative writing course at New York University and have not stopped writing since. Lagos inspires me and so do my experiences overseas.
Give us an insight into your works and why you chose the particular themes you write on.

I write stories that interest me, basically. I choose characters and voices rather than themes.
Your novel, Everything Good Will Come, has actually brought you so many good things, including the recent Soyinka award. Why the choice of this prophetic title.

My editor chose the title from a line in the novel. It is the translation of a Yoruba expression, " a daa," meaning "it will be good."
The novel has a moral undertone. How much of the experiences depicted is personal. And should every piece of literary work be necessarily didactic?
I don?t think every literary work should be didactic and I?m not sure you can say my novel has a moral undertone. My protagonist leaves her husband at the very end and that is not moral of her, according to some Nigerians. When the novel was released in Nigeria, readers were very angry with her for doing that, and also with me, but no, the novel is not at all autobiographical.
Does being a daughter of a traditional ruler and being married to the famous Ransome-Kuti family serve as an influence on your writing?

My grandfather was the Atta of the Igbirra people and my husband is a Ransome-Kuti. The Ransome-Kuti family is rebel royalty. I am proud of both families, and yes, sometimes, their histories sneak into my stories.
Women are said to be discriminated in all aspects of life. But this doesn?t seem to hold true when it comes to writing or literary success. What do you think?
I?m not sure about that. We have a few renowned Nigerian women writers, but the men seem to hold the major international awards, the Nobel and the Booker for instance. There must be a reason for that.
Women writers are said to be mainly pre-occupied with feminist issues. To what extent is this assertion true? And if this is true, why?

The trouble is women writers are often asked to justify why we write from a female perspective, whereas men writers are never asked to explain why they write from a male perspective.
What?s your advice to fellow women writers?

The same advice I would give to any writer: read, read, read and write, write, write.
(c) Sumaila Isah Umaisha
-
52 Glorious Years Of Nigerian Literature
As Nigeria marks its 52th Independence anniversary, SUMAILA UMAISHA highlights the literary landmarks Before 1960 The effective date of Nigerian?s attainment of independence from the British colonial rule is October 1st, 1960. But the same could...
-
The Umaisha Dialogues Goes To Press!
At last the first of the four volumes of my interviews with Nigerian authors, The Umaisha Dialogues, has gone to press! The volume, which features new Nigerian writers like Chimamanda Ngozi Adichie, Remi Raji, Toni Kan, Jude Dibia, BM Dzukogi, Razinat...
-
The Literary Side Of Niger Delta (interview)
Since the publication of her first novel, Yellow-Yellow in 2006, Kaine Agary?s image as a writer has been growing with a phenomenal speed. Just a year after it was published, the novel won Victor Nwankwo Book of the Year Award, ANA/Chevron Prize for...
-
Toni Kan - 'short Story Is Like A Snap Shot'
TONI KAN ONWORDI is an award winning poet, essayist and short story writer. He holds a BA and MA in English Literature from the universities of Jos and Lagos, respectively. He has published two critically acclaimed books; When a Dream Lingers Too Long,...
-
Zaynab: 'i'm Writing My Own Personal Story' (interview)
ZAYNAB ALKALI, one of the most prominent women writers in Nigeria, and author of the famous novel, The Stillborn (1984), speaks to SUMAILA UMAISHA on her academic and literary career. ............................ NNW: Let?s begin with your movement...
Literature