Literature
Chimamanda: ?To write fiction is to try to make sense of the world? (interview)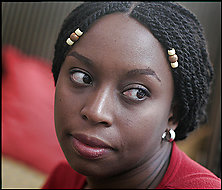 Chimamanda Ngozi Adichie, a Nigerian writer based in the US, is fast becoming a house-hold name not only in Nigeria but globally. Her works, especially the novel, Purple Hibiscus, has won many awards including the 2005 Commonwealth Writers? Prize for Best First Book. It was also short-listed for the prestigious Orange Fiction Prize award in 2004. Her latest novel Half of a Yellow Sun, based on the Biafran war, has just been published and is already making waves. She speaks to me about these works and other related issues.
NNW: Let us into a brief biography of yourself.
Chimamanda Ngozi Adichie: I was born in Anambra State in 1977. I grew up in the university town of Nsukka where I attended primary and secondary schools. I started off studying Medicine at the University of Nigeria and then decided, after a year, that Medicine was not for me and left for the US where I studied Communication and Political Science and, later, got a Masters Degree in Creative Writing. I spent a fellowship year at Princeton University where I taught Creative Writing to undergraduates. I am presently in the graduate program in African Studies at Yale University. My father is a retired university Professor and my mother is a retired Registrar. I am the fifth of six children.
How did your interest in writing begin?
I fell in love with books as a child. I have been writing since I was old enough to spell. I don?t have major inspirations. I am inspired by everything and anything.
What informs the choice of your themes?
My themes are informed by interest. I write about what I care about; gender, class, religion, family, history, race.
Your first novel, Purple Hibiscus, has won many prestigious awards and short-listed for others. What is the secret behind this phenomenal success?
There is no secret. I don?t quite see it as a phenomenal success either and hope to improve my craft as I go along. Purple Hibiscus is the result of many years of rejections from earlier publishers and hard work and a refusal to give up. I read as much as I can because I am convinced that reading is the only way to nurture writing. And most of all, I am deeply committed to writing. I put in a lot of time into writing and re-writing. My relative success is a result of a number of things; my hard work, my determination, my refusal to back down in the face of the many rejections I received at first.
You are into many fields of study; Medicine, Communication and Politics and Creative Writing. In what way has each of these contributed to your success as a writer?
I studied Medicine for just one year and so don?t think it had any influence. I was, however, a science student in secondary school and I am not sure whether or not Physics (which I disliked) and Chemistry (which I liked) contributed to my writing. Studying Communication and Political Science meant that I had the opportunity to read widely across disciplines; philosophy, history, politics. It has very much helped my writing by expanding my knowledge. To write fiction is to try to make sense of the world and knowledge of the facts of the world can only aid that.
Your second novel, Half of a Yellow Sun, is based on the Biafran war. To what extent is the story a personal experience, and what lesson are you trying to impart?
I never try to impart lessons with my fiction. The beauty of literature, I think, is that different people will come away with different interpretations. Half of a Yellow Sun is a story of love and loyalty and betrayal and change. (For more on the book: www.halfofayellowsun.com). My grandfathers both died in Biafra and so the novel is also my way of paying tribute to them and to so many others. It is also my hope that this book will start a conversation among Nigerians of my generation about a history that we have tended to ignore.
Some critics have tried to emphasize the difference between women?s writings and those of men. Is there really any difference?
I don?t think so. What I would emphasize as a means of differentiation would be technique rather than gender; the quality of the prose, the sentence construction, etc. I think that gender probably plays a bigger role in how critics read than in how writers write.
Would you have gone this far in your writing career if you were not living abroad?
I was first published in Nigeria. A poetry collection and a play were both published before I left Nigeria. That said, it is obvious that publishing is an established industry in the US in a way that it?s not in Nigeria. I may not have been published internationally if I had stayed back in Nigeria, but I would certainly have been writing.
Finally, should readers expect works from you soon?
Half of a Yellow Sun has just been published in the US and will be out in Nigeria in November.
(c) Sumaila isah umaisha
-
Achebe Has Made The Biggest Blunder Of His Life ? Maiwada
Chinua Achebe, the acclaimed father of modern African literature, recently released a memoir based on the Nigerian civil war. Titled There was a Country, the book touches on several sensitive issues including the roles of individuals, institutions...
-
52 Glorious Years Of Nigerian Literature
As Nigeria marks its 52th Independence anniversary, SUMAILA UMAISHA highlights the literary landmarks Before 1960 The effective date of Nigerian?s attainment of independence from the British colonial rule is October 1st, 1960. But the same could...
-
Unoma Azuah: "teachers Of Creative Writing Are Like Coaches"
Unoma Nguemo Azuah was born at Ogwashi-Ukwu in Delta State to a Tiv father and an Igbo mother. Most of her formative years were spent at Nsukka as a high school student in Q.R.S.S Nsukka and as an undergraduate in the English Department of the University...
-
Vincent Chukwuemeka Ike - 'things Fall Apart Inspired Me' (interview)
VINCENT CHUKWUEMEKA IKE, one of the foremost Nigerian writers, has produced more novels than many of his contemporaries. He set out on his literary journey in 1965 with the publication of his novel, Toads for Supper and today he has over a dozen publications...
-
Sefi Atta: 'i Don?t Think Every Literary Work Should Be Didactic' (interview)
Sefi Atta, who recently won the literary prize endowed in honour of the first African literary Nobel Laureate, Wole Soyinka, for her novel, Everything Good Will Come, was born in Lagos, educated in Lagos and England and currently teaches at Meridian...
Literature