Literature
The job of a literary journalist is a nightmare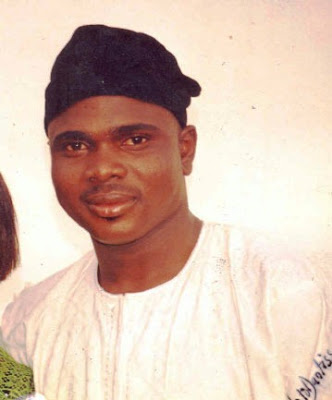 BENJAMIN UBIRI, literary editor of the Abuja-based Newspage newspaper, and winner of the 2009 edition of Literary Journalist of the Year, awarded by the Association of Nigerian Authors, speaks to SUMAILA UMAISHA on his experience on the beat and more.
NNW: Your brief biography.
Benjamin Ubiri:
I am known in the literary parlance as The Penpusher. I am the fourth of seven children; I used to have six sisters, but now I have four, and my mother. I am Isoko from Delta State. I am a compere, an actor, a stage director, and performance poet, but I guess what you want to discuss is the fact that I am a journalist: I head the literary desk of Newspage newspaper, even though I am officially its Political Editor. I have worked both in the public and private sectors of the Nigerian economy. But if you ask me some other time, I will say, Ben is a simple young man on his way to conquering the world.
How does it feel winning the Literary Journalist of the Year award?

I feel greatly honoured and humbled. For me it is like winning the Nobel prize for literature. It is like the Grammy to a musician. I take it as a great icing to my career as a writer.
What would you say are the factors responsible for your winning the award?
I must admit that I was up against very great writers, and I respect them a lot, besides we still meet at literary events. However, the literary journalist of the year award is a keen contest, unlike other awards of literature where you present a book, here you present ten works, in different categories: essays, short stories, poetry, interviews, profiles and the likes and these works must spread for a space of one year. For the award, I was very prepared; I went into it to win. I started preparation a year before. You won?t believe this, each time I was writing a piece for the entry, I said to myself, this is for the contest, so I took it more seriously and with a little more care. I studied the rules, read the report of the judges after past verdicts, and I studied the writings of past winners. I guess the findings affected my writing and somehow appealed to the judges.
How would you describe the job of a literary journalist ? the main attractions and the problems?
Did I hear you say attraction? Ask any journalist, and the answer you get is that the job of a literary journalist is a nightmare. You actually need three things to do it: passion, passion and passion. The job basically requires you to read, write, read and write. And most of the time you are reading and writing about some very uninteresting materials that ordinarily should not hit your eyes. You read books, poems and stories that are terribly written, sometimes you find it very difficult classifying some writings into particular genres. But in all, it is like another school, where you have very little control over the books on the syllabus, as such you read to make the audience happy.
The essence of the literary journalist is to feed the mind of literary enthusiasts: you read books and write reviews about them. You write short stories, poetry, plays, essays and commentaries. You also write news reports and interviews. The literary journalist is majorly concerned about the use of language; sometimes you are caught between writing in your normal journalese and writing in creative language. I have four pages every week, and you will agree with me that it sure requires a lot of work. But the major problem of literary journalists in Nigeria is the fact that most media managers have too little space for this broad subject. Others consider it lower than other subjects as politics, business and law. But the reward is self satisfaction. Already, this work is being rewarded in an award. So, who knows what the future holds?
What are the necessary qualifications needed for the job?

Every journalist can practise as a literary journalist, because the training of a journalist involves training in communication, creative writing and literary appreciation but the journalist must be willing to adhere to the use of language and the rigours of reading other peoples? works and doing so over and over again. This experience is very different from the everyday practice; it is in so many ways, a kind of technical corner in journalism. People, who have taken courses in English or in Literature before going on to study Journalism, have a great advantage. But the most important qualification will be in the form of a natural talent: interest in literature, and patience for poorly written works and fairness; to be able to tell the truth about literary works. Then one must consider communication seriously, and the art of writing. This is some kind of dissecting of the literary journalist, more than just getting a university degree.
What is your assessment of the literary journalism practice in Nigeria generally?

I am happy with the things I read in Nigerian Newspapers. However, I must tell you that most newspapers do not consider the literary pages exclusive in themselves: often they are buried in the arts pages. I feel they should be different because they are different. While literature concerns itself with written works, e.g. fiction, poetry, drama, and criticism, that are recognised as having important or permanent artistic value, arts covers a vast expanse that stems from crafts, music, paintings and social entertainments. They are sure under some form of umbrella but a closer look will show you that literature is wide enough to be treated dedicatedly. I have come across very good journalists who have to struggle with the burden of the arts pages because their organisations do not consider literature large enough to be alone, so they have literary pages that are crammed, or arts pages that are filled with social engagements that choke literature. I do hope that there will be better columns, more generous dedication of pages to literature and proper programmes in the media, and I hope that in the nearest future there will be a large number of literary newspapers and journals. Literary journalism in Nigeria is good but there is room for improvement.
You were organising a monthly poetry competition in the Newspage newspaper: What informed the project, what are the gains so far and how is it faring now?

Yes, the poetry competition is still running. We give out twenty thousand naira monthly for unpublished single poems by Nigerians living in Nigeria. It was meant to encourage poets on the one hand and on the other, it is meant to help some unpublished writers to get their works in print. Part of the plan is also to produce an annual literary journal. We hope that in the future, we shall be able to get more and more writers to write good poetry. It is also a way of proving, in some way, a theory that I have taught in my column for a long time that one can make money from writing.
As a lite1rary journalist, what?s your view on the recent decision by NLNG not to confer the literary prize on the longlisted poets vis-à-vis the position of Association of Nigerian Authors on the issue?

I do not want to delve into the controversies of this prize which in my opinion, should have been Nigeria?s greatest literature prize, but unfortunately, it is being marred with credibility questions. I have followed this prize well and I am not happy with the developments. I feel very strongly that there is some form of mystery and unexplained undertone. I have a problem with some of its past winners no doubt, but I am of the opinion that the long list for this year has very many good books. If you ask, me, I?ll say, the NLNG lost the best opportunity to redeem its image. It is bad that they refused to award the prize this year. They tried it before but they were forced by Wole Soyinka to share the prize money by the two finalists that year. This year however, Wole Soyinka was not there to sound the caution, so they hold back their award. It is wrong; if you have nine good books on a long list, it is only fair that you award the prize to the best among the nine. If it is justifiable, nobody will raise an eyebrow.
With regards to the Association of Nigerian Authors, there was no official statement either condemning the non-award or cautioning against it. Although a few exco members granted interviews on personal basis, there was no official ANA stand. It shouldn?t be so. I am afraid that there may be some people in ANA who are too close to the NLNG either as friends or as contractors that they fear an official stand which at the moment is likely going to be negative, may spoil their chances. We have lost so much because of these few who think some carrot can give ANA some visibility and clout. If their position suggest that we are rabbits, I say we don?t have to eat all kinds of carrots.
What do you hope to do with your award money and what will you do this year as the winner of this prize?

[Laughter] You should think that my prize money is meant for me. Even though I am yet to receive it, I do think it is too little for me to do that which I have planned to do with it. In this year I hope to do a project that I have called: THE LITERATURE PROJECT: This project is based on the assumption that the Literary Journalist of the Year award is not so popular and its recipients do not contribute to the development of the subject matter, beyond the fact that they are recognised as great journalists in the field of literature. Therefore, in order to deviate from this norm I have decided to embark on the Literature Project. It has the following as its major components: To make more popular, the literary journalist of the year; To encourage the teaching of literature in all post primary schools; To create a forum, where literary journalists can meet at least once a year; To encourage the creation and strengthening of literary columns and programmes in Nigerian media; To encourage the reward the practice of literature by hosting; To host an annual literary festival in Nigeria. I hope to elaborate on this at the unveiling in the New Year.
(c) Interviewed by SUMAILA UMAISHA.
-
I Feel At The Top Of The World!
ISAAC ATTAH OGEZI, legal practitioner, playwright, short story writer and literary essayist, based in Keffi, Nasarawa State, is a consistent literary prizes winner . In addition to his numerous prizes, his play, Waiting for Savon, has just won this year?s...
-
Umaisha And Omalicha Offer November Treat In Abuja
Two emerging writers, Sumaila Umaisha and Ifeyinwa Omalicha, will feature at the 28th edition of the Abuja Writers? Forum?s Guest Writer Session, which holds on November 27, according to the Forum?s PRO, Abudullahi Abubakar: The event, which holds from...
-
Literary Journalists In Nigeria Are Trying (interview)
Henry Akubuiro was born and raised in Imo State. Educated at Imo State University, Owerri, he holds a double major in English and Literary Studies. He is journalist as well as a creative writer. Before his present position as the arts editor of National...
-
The Write Stuff Bags Media Merit Award
The Write Sutff, the weekly literary column edited by Sumaila Umaisha in the New Nigerian Weekly, has once again brought garlands to the stable of New Nigerian Newspapers when it was conferred with a Media Merit Award for sustained excellence. The award...
-
Umaisha Tops Nigeria Again (interview)
This interview was conducted by Odoh Diego Okenyodo, literary page editor of Trust newspaper and appeared in the weekend edition of the paper, 10/11/07. Bookshelf: How did you feel when your name was announced as the winner of the Literary Journalist...
Literature