This interview was conducted by me in 2005 to mark the 45th Independence Anniversary of Nigeria. Abubakar Gimba, who is one of the renowned Nigerian writers assesses the country's literary development over the years.
NNW: It is 45 years since Nigeria gained independence. How would you describe her literary development so far?

Alhaji Abubakar Gimba:
In terms of literary output and quality, Nigeria has come a long way. But the old names continue to dominate the scene. And I don?t think it is so much because they produced particularly superior works. It is the uniqueness of the time they produced their works and the kind of themes they explored. They exhibited courage in portraying the societal ills. Even now writers are producing good works, but the themes are not quite as enduring as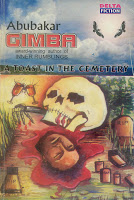 those of the earlier writers. Another advantage earlier writers had is the fact that they were very few. But today the scene is full. And where you have too many soldiers fighting in a battle field, the qualities of an individual are not easily recognized, unlike when one is fighting alone.
Don?t you think the lack of popularity of the present writers is due to the prevailing low reading culture?
I don?t think so. Even in those days how many people were reading? Most of the books by Wole Soyinka and Chinua Abebe were read by students. They were recommended in schools without the authors lobbying anybody. The qualities of the books allowed them to thrive on their own. Remember, there were only few literature books then. So students were forced to read them. That is not the case now. There are so many books to choose from. So, there is competition. And as it is typical with Nigerians, where there is competition people lack the patience to wait. Authors push their books to schools by themselves. So if you succeed in pushing yours this year, next year another author is likely to push you out. And so there is no stability, you don?t have recommended books that stand the test of time. So even though the reading culture is poor, it is not the reason why the present writers lack popularity.

Maybe the lack of popularity could also be attributed to the fact that many books lack the essential literary qualities?

Well, in a way, I think that is true, because once a book is well produced the tendency is that people will like to read it to discover the content.

In your early works like Trail of Sacrifice, your description of the Nigerian situation is gloomy. Forty-five years after the independence, has Nigeria changed form that gloomy circumstances?

Certainly, things are getting worse. What some of us were trying to do even in those early days was to bring to the fore certain things we believe could make this country great. We preached against disunity, greed, injustice, corruption and so on. But unfortunately, each of these has become aggravated. And each one of us is trying to be holier than thou. This is the problem. Everyone is part of the problem, but no one is ready to take responsibilities.

In this context, how would you rate the role of the writer as one who changes the society for the better?

Well, the writer is supposed to mirror the society in his work with the intention to induce actions that would change the society for the better.. Unfortunately this society is not the type that is ashamed of itself. The essence of looking at a mirror is to effect correction.. But this society is the type that does not bother about what it sees in the mirror. Rather than correct themselves people blame it on the mirror, saying it is a bad mirror. And writers too are part of the problem because they have not shown good examples. We often feel we are excluded from what we preach. So we reinforce certain distorted notions or values of the society. Our major faults are that we easily take sides in a manner that is so partisan and we are not principled. If a writer does not practise what he preaches, then the society won?t take him serious. The society has played its part by recognizing writers even if we don?t get any reward in terms of money. The society appreciates writers. So why can?t we show we could be different? Rather than passing harsh judgement, writers should reflect the realities like a mirror. And they should make their own lives a living example.

One of the problems being experienced today is lack of enough publishing houses to cater for the teeming young writers, and the few available ones insist on collecting money before publishing.

I don?t think people should complain about not being published. It is a market oriented thing. If a publisher knows if he published a book he would make money from it, he will publish it. If the writer produced what people would like to read, then the publisher will publish it. We must not keep complaining. Young writers should just bear with the whole thing. Just keep on writing till you hit the jackpot.

But the way things are going, it looks as if there would never be a jackpot to hit. The few available publishers insist on cash down, unlike those days when publication was based on merit and the contract based on royalties.

The publishers insist on collecting money because we are willing to give. If you want to publish according to the normal publishing procedure and the publisher insists on collecting money, you can keep your manuscript. This publishing for money is responsible for a lot of bad works being produced today. Because there are people who can pay even though they are not good writers.

Another complaint by the Nigerian writers is that Nigerian government is not doing enough for the development of literature.

Well, I will agree with you. They should have a system of promoting writers. They should, for instance, recommend the best books, every two years. They should make a list of such works and distribute to schools and the media. It could be called the best ten books, as it is done in developed countries. The media could help in popularizing writers? works. But unfortunately certain section of the media in this country behave as if there are no writers in certain sections. And it is a gross distortion and misrepresentation of the situation. So we need this kind of list to give us the courage to continue.

The Association of Nigerian Authors, ANA, is 24 years old. As the past president of the association, how would you describe its journey so far?

Well, I think ANA is growing. Even the rate of interest being shown now in terms of who heads it is an achievement. It is good to know that people are now more interested in seeing that the association serve some purpose. During our time, we tried to change the image of the association from being an association of people who are just critics. We tried to show that writing is not just for certain group of people but for everybody and that writers are responsible people. The fact that you are a writer does not mean that you should be a drunkard or engage in irresponsible behaviour. This is the image we tried to build. And I think we succeeded a great deal. And people from various arms of government want to be part of it now. To me, it is something.

Apart from improving the image of the association, what else would you say your administration achieved especially in terms of helping the young writers to get published? And what?s your advice to the next leaders (that would emerge from the elections that would be held in the November convention in Kano) in this regard?

The best a writers? association can do is to advise members on how to get published. It is not feasible for the association to have the works of every writer published. The only thing ANA can do is to provide a forum, an environment and protection for writers to function, to exchange ideas on how to improve their craft and how to get published.

There is a debate on who becomes the next ANA president. What?s your own view?

The debate is quite a healthy development. It gives the candidates the opportunity to present their agenda, vision and their background. People must know the kind of people they are voting for. You don?t bring some one from Liberia to be a president in Nigeria nor do you take a Nigeria to Liberia to be a president there. He will not know the place well. He may have read about the place, but that is a different thing. He must be a part and parcel of that group and share in the experiences to some degree. He may not necessarily be part of it for a long time before he knows it well, if he is sharp enough.

So, in specific terms, whom are you going to vote for; Dr. Emman Shehu or Dr. Wale Okediran?

[Laughter]. I will be voting for the best candidate, the person that will serve the organization best. I know the two contestants. I know Wale very well. But I?m not going to shut my door against anybody. So I?m not for any body at the moment. As the former president of the association, I?m particularly concerned about somebody who will take the association to higher heights. If I believe Wale can do that, I will vote for him. If I believe a new person has a brighter ideas more than the person I worked with, then I will support him. But right now I?m watching and scoring each of them.
(c) Sumaila Isah Umaisha
SALAMATU SULE, a graduate of English and Literary Studies from the Kogi State University, Ayingba, is a multi-talented writer. She writes prose and poetry in both standard and Pidgin English. In this interview with SUMAILA UMAISHA, the imaginative writer,...
Dr. E. E. Sule, lecturer at the University of Abuja assesses the Nigerian literary scene at 50. What?s your assessment of Nigeria's literary development? Dr. E. E. Sule: The literary scene in Nigeria, in my view, is as sick as Nigeria in her 50th...
Hyacinth Obunseh, award-winning writer, publisher and Assistant General Secretary of Association of Nigerian Authors, ANA, is preparing to vie for the position of General Secretary of the association in the forthcoming election in November at its Annual...
SAKA ALIYU, an Assistant Lecturer with Bayero University Kano, BUK, holds a Bachelor of Arts in History from Usmanu Dan Fodiyo University, Sokoto, (1998) and a Master of Arts in History from the University of Ilorin (2006). After working variously as...
LABO YARI, author of Climate of Corruption, the first novel in English language to be published in Northern Nigeria, is one of the renowned pioneer Nigerian writers. He is particularly famous for his highly imaginative narrative style that portrays the...